How does it work?
The cost is £2.50 per person, per hour to play games. This is 'capped' at £3.50 for members and £7.50 for everyone else.
Non-members reserve their table for up to 3 hours. In that time, they can play as many games as they like! When your time is up, you're welcome to keep playing (if we're not busy). Otherwise, we will come and let you know when you've got around 20 minutes left.
To avoid disappointment, we recommend booking ahead. You can either use the form below – or call the café to make (or cancel) a booking. This also helps us ensure that we are adequately-staffed on the day.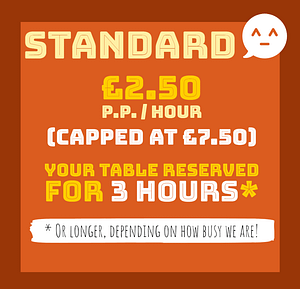 How long can I book for?
Members can reserve a table for up to 5 hours.
Regular visitors can reserve tables for up to 3 hours.
Pricing for D&D or a Collectable Card Game?
D&D / Card Games are subject to half-price cover charge.
Discounted cover is for week-days only.
Visiting with kids?
Under 5s are free, but are limited to age-appropriate games.
8 – 14 year old's get half-price cover charge.
Rules: Adult supervision is required. An adult must also be leading the session with children.

Need to cancel or change a booking?
If possible, please use the link provided in the confirmation email and simply re-book using the website as normal. If you encounter any issues please email, call or use the contact form found here.